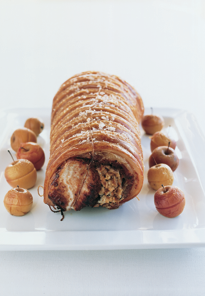 Tips for Christmas Meat Cooking
Even if you have hosted and cooked for Christmas many times, there are always new ways of doing things and different methods to try to make your day easier.
How to Cook the Perfect Roast- 5 must-know tips from our chef's.
Just in time for Christmas!
Cook your fresh whole turkey using an oven bag – wash the turkey and pat dry with paper towels. Season and stuff your turkey or place some garlic cloves, lemon pieces and fresh herbs inside the cavity. Place the turkey in the oven bag, breast side down and cook for 3/4 of the recommended time. THEN turn the turkey over so the breast side is up, cut the bag and tuck under your turkey and continue cooking until the turkey is ready. This crisps up the skin and keeps the breast meat perfectly tender! Here is our handy list of whole turkey cooking times.
Use a meat thermometer to check the temperature – this takes all the worry out of cooking the perfect roast, whether that is turkey, a seasoned pork loin with crackling or a lamb roast. Place the thermometer in the thickest part of the cooked meat. When it gets to within 5 degrees of the desired temperature, take it out of the oven, baste it and cover in foil. While it rests, it will keep cooking.
Make stuffing equate to 10% of the weight of your fresh whole turkey –  don't over stuff your turkey as the stuffing will expand a little during cooking when the cooking juices soak in. An easy guide to remember is to only stuff your turkey with 10% of it's weight eg: if your turkey weighs 7kg, you would use approximately 700g of stuffing (10% of 7kg).
Love crunchy crackling? Score the pork skin with a small sharp knife making slashes 5-7mm deep slashes about 1cm apart. Leave your pork uncovered in the fridge for 2 days – this will dry it out. When ready to cook, drizzle the skin with a little olive oil and heavily salt the skin. Place in a pre-heated fan-forced 220C oven for 20 minutes then reduce oven temperature to 170C and cook until the internal temperature measures 70-75C on a meat thermometer.
Glaze ham every 10 minutes throughout the cooking process – preheat a fan-forced oven to 190C. Brush your ham liberally with your ham glaze (or purchase one of our Farm Fresh Foods house-made ham glazes!) and bake for 10 minutes. Brush ham with more glaze and baste with it's pan cooking juices (now getting nice and syrupy) and cook for a further 10 minutes. Repeat one more time and cook until ham is beautifully caramelised and golden brown. Remove from oven and baste with any remaining cooking juices as it cools.
Tags: christmas, glazed ham, meat thermometer, pork crackling, seasoned pork loin, turkey, turkey stuffing
Trackback from your site.